Biography
---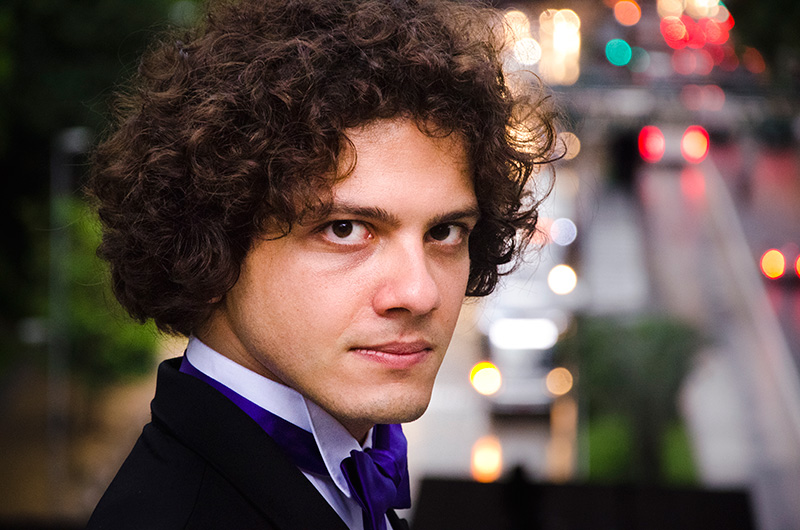 "Magician at the Piano"
Hannoversche Allgemeine Zeitung
At the age of 5 he began playing his grandmother's piano; she was a piano teacher in Sao Paulo. Seventeen years later – after intensive training at leading universities of music in Brazil and Germany Fabio Martino bought himself his first Steinway grand piano. The money for this came, amongst other, from his first major prize of 48,000 US$ at the BNDES International Piano Competition, the most important contest in Latin America.
In the meantime Fabio Martino has won more than 20 first prizes in piano competitions. Martino doesn't only draw in the audience with his virtuoso playing; he also thrills them with his South American charm. The piano shooting star is viewed as a cheeky but at the same time open challenger on the international pianist scene. He wears his hand-tied bow tie like a trademark.
The incredible musical versatility is also evident in his extensive discography. Two new albums were released in 2019 by Fabio Martino: Rachmaninov Piano Concerto Nr. 1 which was recorded with the Stuttgart Philharmonic Orchestra under the direction of maestro Dan Ettinger (Hänssler Classic), and the album "Latin Soul", his third solo CD with powerful piano music full of joie de vivre and radiant sounds by composers from Latin America. The recording of this co-production with German radio SWR has received great attention worldwide and climbed the charts after a short time on the market being listed Nr. 2 in the "Top Album Classics" on iTunes South America. This CD received only top grades and numerous awards as "CD of the month" from leading magazines such as Piano News, Klassik-Heute, Limelight, International Piano Magazin, among others.
As an international soloist Fabio Martino has played not only the well-known piano concertos by Prokofjew, Rachmaninov, Beethoven, Mozart, Schumann, Bartók and many others, but also the rare played works by Villa-Lobos, Medtner, Guarnieri or Mignone, with equally success and enthusiasm from the audience.
After a tour in 2019 through several cities in Northern Germany with the Schleswig-Holstein Symphony Orchestra, the press wrote: "Tchaikovsky´s Piano Concerto Nr. 1 – as if made for Martino, the pianist with furious technique and musical sensitivity".
The year 2020 started just as furiously and musically in the Festspielhaus in Salzburg. Fabio Martino was celebrated by the audience in two completely sold out New Year´s concerts playing the Rhapsody in Blue by Gershwin and the Fantasia Brasileira by Mignone. The concert calendar would have had many other highlights, e.g. at Sala Verdi in Milan, Operahouse in Sao Paulo and Rio de Janeiro or Herkulessaal in Munich, but because of Corona, Tchaikovsky´s Piano Concerto Nr. 1 in the sold-out Liederhalle in Stuttgart was followed by a forced break.
During the lockdown, Fabio Martino started his own project. Under the title "Fabio Martino @ HOME" he organized livestream concerts every week with invited artists and broadcasted it from his home. Whether with singers, flute, clarinet, bassoon, strings, as a duo or trio, he proved his joy, versatility and enthusiasm for chamber music every time and reached his audiences worldwide even in difficult times. All recordings and videos can be accessed at any time on his YouTube Channel.
Martino also showed his ability and his special stage presence in various film and TV productions as well as live recordings amongst others for the SWR, BR, NDR, TV Globo and the BBC. In March 2020 he recorded the new music for the silent film "Beethoven" together with the Thüringer Philharmonic Orchestra on behalf of ARTE and ZDF.
Critics already mention Fabio Martino in the same breath as Nelson Freire, Martha Argerich, Claudio Arrau, Sviatoslav Richter and even link him with Vladimir Horowitz.
Repertoire
National and International – Piano Competitions
Press Kit
Booking
---
Agency Manager - Thomas Hägele
Email thomas.haegele@web.de