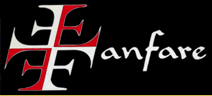 In an interview, I recall a noted
 Brazilian pianist remarking, only
 half facetiously, that after soccer,
 what his country loves most is the
 piano. It shows. There's something 
about being openly emotional that's 
a hallmark of Latin American
 pianists, I think, and it's no surprise
 that Fabio Martino, born in São
 Paulo and now in his late 20s, 
chose pieces for this recital disc
 that spoke to his heart. He plays
 every work on the program with a
 quality of direct personal
 communication, one of a pianist's best gifts. As winner of over 20 national and international competitions, Martino is comfortable with the technical side of these famous works from the standard repertoire, but unlike typical prizewinners, technique doesn't dominate over expression.
Martino studied in Brazil before moving to Germany, where he has obtained advanced degrees. His interpretation of Beethoven's "Appassionata" Sonata is knowing and confident. The first movement is classically molded, being not as blazing as Richter or as self-reflective as Arrau. Pauses and hesitations are minimized in favor of lively momentum. The instrumental tone is clear; the phrasing assured—this is middle-period Beethoven well assimilated into a young pianist's optimistic perspective. The Andante con moto, whose narrow expressive range and sober mood can lead to dullness, is handled with mature artistry. Martino respects Beethoven's restrained marking of Allegro ma non troppo in the finale, allowing the music's ebullience to come out but not turning the passagework into a show of virtuosity.
I'm particularly fond of Liszt when he takes a song and writes a parallel version for the piano, as he did magnificently with the Sonetti del Petrarca and on a smaller, gentler scale in the three Liebesträume from 1850, which became enduringly popular. Each is titled according to the poem that inspired it, and although the same thread of "a dream of love" runs through the set, the kind of love changes from idealized to erotic in the text. I'm not sure the musical mood changes that much, since all three pieces are subtitled "Nocturne," but Martino is in his element here, phrasing beautifully with natural tenderness that never becomes cloying.
Schumann's Fantasy in C poses major interpretative challenges in its merging of the composer's restless imagination with the large-scale structure that echoes Beethoven. In keeping with his sympathy for Lisztian romance, Martino easily captures the same in Schumann, giving us generous phrasing, pedaling, and emotional range. As in the Beethoven, the profile of his interpretation is classically modeled as far as tempo, dynamics, and balance go. What stands out is the kind of direct communication with the listener I first mentioned. In the gently rhapsodic sections of the third movement Martino is most successful. He aims to play Schumann from the soul and succeeds.
The PR blurb for this album describes the pianist as "cheeky," pointing to his habit of wearing colorful bowties in concert (who has had the nerve to do that after Horowitz?). Musically cheeky applies to the encore here, Tico-Tico no Fubá, a popular Brazilian song made (campily) immortal by Carmen Miranda in the Hollywood musical Copacabana. The virtuosic arrangement by Marc-André Hamelin is deft enough not to crush the song's light-hearted spirit. Martino's exuberant reading is perfect.
I like CDs programmed to be like a concert recital, as this one is, complete with encore. Martino is a gifted pianist who can be warmly recommended in this repertoire—one detects steady musical growth form his debut album in 2013. I look forward to hearing what the future brings. The piano is captured well, and the succinct program note is helpful.
Huntley Dent – Fanfare Magazine 12.12.2016
---